geofr33

Add geofr33 as a friend

geofr33 will be notified and will have to accept this friendship request, to view updates from geofr33 and their ratings you must follow them.

Remove geofr33 as a friend



Lists
Recent reviews

Posted : 12 years, 6 months ago on 21 March 2011 08:57 (A review of
Hyperdimension Neptunia
)
This was a game I really wanted and desired to enjoy, unfortunately that was not what ended up happening. This wasn't a game I accidentally stumbled upon this was a game I purposefully sought out and purchase. I was looking forward to this game because of the ridiculous and ingenious idea for its plot. I managed to survive this game for over an hour but then couldn't take anymore. This game is one of the most customizable JRPG's I've ever played. Unfortunately it had one major flaw in the combat that I could not bear to endure. The flaw I'm speaking of is the healing mechanic, you do not get to control directly how you distribute healing neither in battles or outside of them. The game's AI will automatically apply healing items but only based on a chance percentage (which happens very little of the time). Many review sites have given this game scores that are influenced by the fact that the game features only female characters that where revealing clothing. I'm a guy I like hot chicks, I don't understand why other male reviewers have had a problem with this. This was a game that I wanted to enjoy and was looking forward to but was ruined by the shoddy gameplay which seemed to have been assembled by non-gamers.

0 comments,
Reply to this entry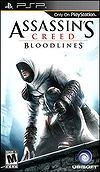 Posted : 12 years, 7 months ago on 18 February 2011 01:16 (A review of
Assassin's Creed: Bloodlines
)
Ass Creed on the psp best part of the game. I ran into a few glitches but my biggest complaint with this game is it's length. This game is ridiculously short (2-3 hours).

0 comments,
Reply to this entry
Movies
TV
Games
Music
Books
Favorite Authors
DVDs